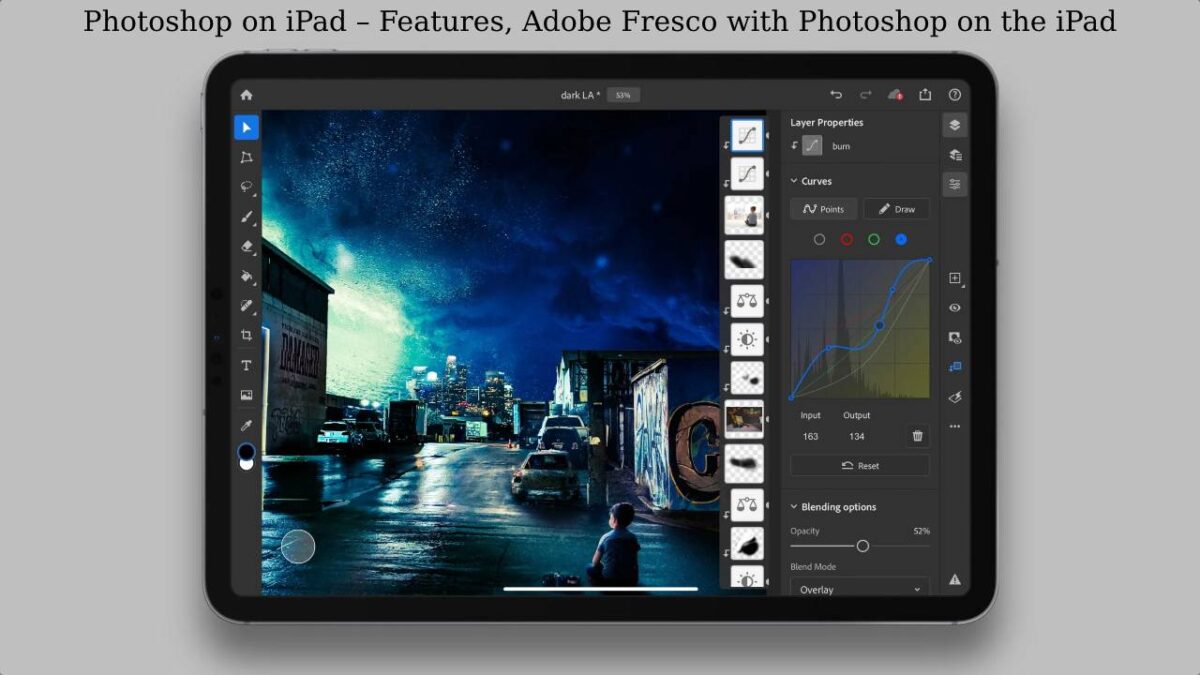 Photoshop on iPad
Photoshop on iPad brings you key features for retouching, compositing, and more — and it's getting better all the time.
Adobe officially launched the real Photoshop on the iPad. Attending a live demo amazes with ease of use and power.
The tablet version is almost better than the computer one.
Apple and Adobe promised it. Photoshop would be a key piece of iPad's transformation from entertainment to professional content production.
With today's announcement of the arrival of the real Photoshop on the Apple tablet, it is.
The new Photoshop, with nothing to do with the existing apps, is a faithful replica running on Windows and macOS.
It is based on the same code, has the same tools, and is 100% compatible with the standard version PSD files.
Plus, working in the cloud allows you to switch between devices while working on the same document.
The work area is almost the same, as are the instrument panels, net of the optimization for touch use or via Apple Pencil.
Photoshop on iPad is available in the Apple store
During the presentation, we saw a real demo of using the new Photoshop for iPad.
A demo in which an image was created starting from several different subjects and using many creative tools (clone stamp, various brushes, gradients, etc.) on many levels.
Photoshop has always proved to be fast and responsive, ideally at ease running on the new Pro versions' hardware (and more).
Adobe has finally managed to bring Photoshop to the iPad in full version after accumulating delays that have postponed the release one year after the announcement.
The new Photoshop for iPad has been available for a few hours in the Apple store.
This first version offers photo editing tools optimized to work best on iPad with Apple Pencil, as widely expected.
The company plans to improve several functions, such as brushes, masks, finishing edges, and subjects' selection.
It is a long-term strategy for an application that will improve over time through new updates increasingly feature- rich.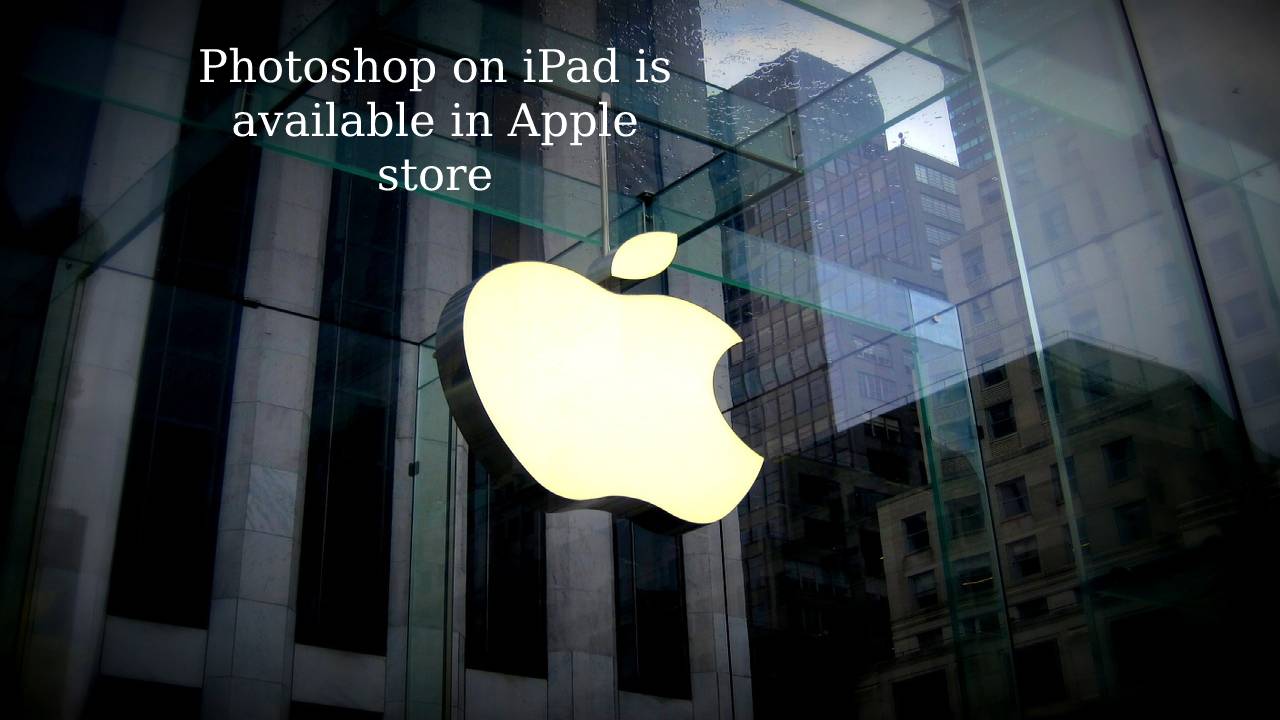 Creativity for designers with Illustrator Photoshop on iPad
The arrival of Photoshop on the iPad could only be accompanied by his brother Illustrator, for now only in the preview phase.
Photoshop, Adobe wanted to recreate the same user experience as the computer version but improved using the touch controls and above all through Apple Pencil.
Adobe Illustrator for iPad will be available in 2020. It is informal to imagine that this will be distributed as an update to all subscribers' suites.
Photoshop on iPad runs better than the computer version
Those who had doubts about the real possibility of using software considered thoughtful and demanding on a tablet.
Adobe itself answered with the live demo.
The images taken in real-time contained hundreds of layers on a very high-resolution file.
Much also depends on the iPad version, this is obvious, but there is no doubt that on the latest Pro versions, everything runs like (and in some cases even better) on desktop or laptop computers.
It works just like Photoshop because it is.
Create with complete PSDs, saved in the cloud
Open full-size PSDs on your desktop or iPad and store them in the cloud — no conversion necessary.
You get the same fidelity, power, and performance no matter what device you're working on, even when designing with thousands of layers.
Familiar tools – Fingertip control
Use Apple Pencil and touch shortcuts to make edits directly on your canvas and speed up your workflow.
With the context-aware UI, you display only the core tools and panes you need so that you may focus on your canvas, not the clutter.
Take Photoshop further with Adobe Fresco and Lightroom
Paint with live watercolour and oil brushes or draw crisp lines with scaleable vector brushes using Adobe Fresco with Photoshop on the iPad.
And send photos from Lightroom to Photoshop to transform them into anything you can imagine.
We build it together
The creative community shapes Photoshop's future with your feedback and keeps up to date with the latest releases and enhancements.
Also Read: Birdies – Popular Slipper Shoe startup raised Eight million from investors
FEATURES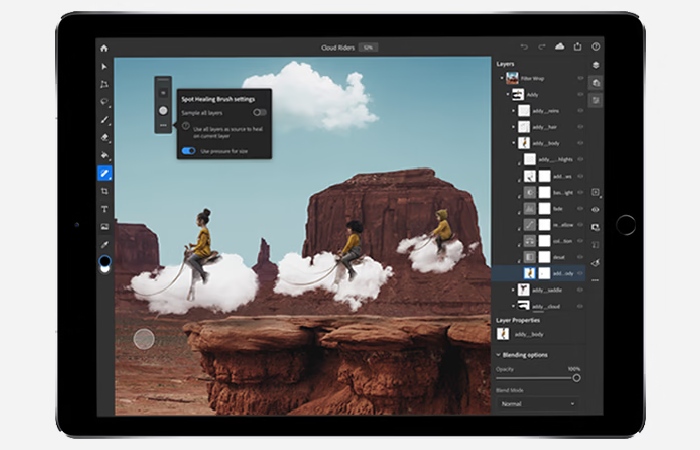 All with a tap
Please take advantage of the same desktop tools, such as layers, masks, filters, and adjustments, by simply tapping them.
Use your fingers to pinch, swipe, scribble and swipe. You will feel even closer to your projects.
The difference is in the details.
Lean, responsive navigation controls allow you to pan, zoom the pixel grid precisely quickly, and easily switch between layers.
Cloud
Syncing It's easy to keep your files in sync across desktop and mobile because now you don't have to do anything.
It's all automatic.
No import, export, or conversion. Your PSD files are the same everywhere and are always up to date
Contextual User Interface
Essential tools and selection options appear earliest when you need them.
The essential panels allow you to intuitively move between layers while staying focused on the canvas, forgetting the clutter.
Models of iPad
Adobe Photoshop for iPad is compatible with all devices that support iPad OS; below, you will find the complete list of models supported by the program:
iPad Pro (Wi-Fi, 4G / LTE)
Second Generation iPad Pro (12.9 ")
iPad Pro (10.5 ")
iPad Pro (9.7 ")
Fifth-generation iPad
iPad Mini 4
iPad Air 2
Apple Pencil (2nd generation)
Apple Pencil (1st generation)
To use Adobe Photoshop for iPad, you will need to have an eligible monthly subscription or take advantage of the 30-day free trial period. If you also want to create drawings on the go, you should get the best drawing app for your iPad.
Related posts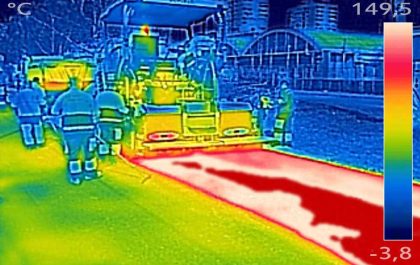 The Need for Using Thermal Vision to See Beyond the Visible
There are times when our eyesight alone is insufficient in a world where we mostly rely on our sense of…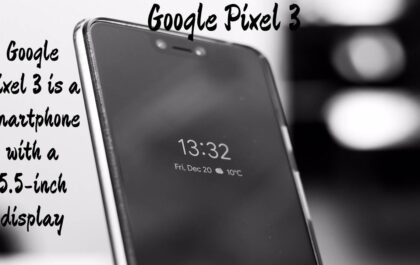 Google Pixel 3 – 2023
Google Pixel 3 Google Pixel 3 is a smartphone with a 5.5-inch display and equipped with 4096 MB of system…